Hi, I'm creating a Nextjs application in which i want to create an Auth0 based login system in which a user first go to Auth0 for authentication using gmail, apple or gitHub then to Web3Auth for private key generation against an email (selected in Auth0 step). Currently my Auth0 app is using three social connections 1. Google 2. Apple and 3. GitHub. I added following URLs in Allowed Callback URLs and Allowed Web origins.
Allowed Callback URLs in Auth0 dashboard:
Allowed Web origins in Auth0 dashboard:
same links added here as well
About Verifier:
I created a verifier name "gameone-testing-verifier" in which i selected "Auth0" as Login Provider and "Google" as AuthenticationType and "Sub" as JWT Verifier ID. I'm confused here means as i have Google, Apple & GitHub as my Auth0 social connections so why i'm selecting Google just as AuthenticationType in Verifier creation. Anyway i'm sharing github code link as a new user can only attach one media file so just attached browser console screenshot.
Complete code github:
How to solve this error? I tried 5-10 times with different configuration. It is going to "auth0" popup and after selecting google it is going to google email selection step and when i select an email from google , it is redirecting to cyan openlogin with following error
My browser console: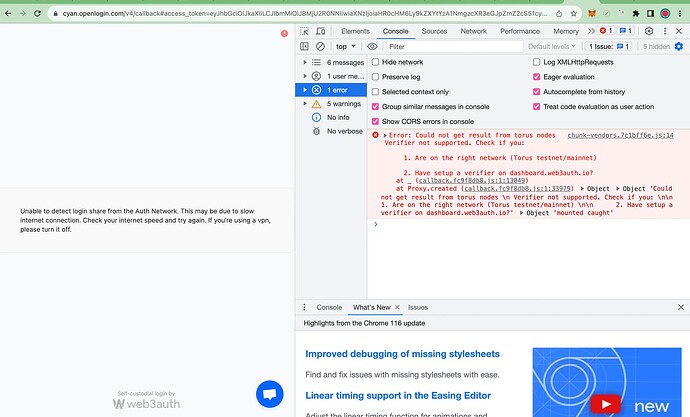 SDK versions:
"@web3auth/base-provider": "^6.1.7",
"@web3auth/ethereum-provider": "^6.1.8",
"@web3auth/no-modal": "^6.1.7",
"@web3auth/openlogin-adapter": "^6.1.7",
About Web3Auth App:
I created an EVM based app and added localhost, auth0 domain link and beta.openlogin URLs as whitelisted URLs